Oh, my....It's been way too long since I blogged. In my defense, this happens to be the busiest time of year for me at school plus this year there has been the added stress of what my job will be next year. I finished the library inventory. Only 25 books are missing out of 13,500. I'd say that's pretty good. Most books that were still checked out to students were paid for. Friday, June 5, was the last day of school for students. I work this next week and then am done for the summer. Next year I will work four days a week at the school I'm at now and one day a week at one of our middle schools. I gained seven hours a week for next year. I'm grateful to have a job and will love working with the library tech up the mountain. She is a good friend. Our group of library techs has lots of fun when we get together.
I've also been busy with a quilt challenge. Jodi at
Simply This, That and the Other
strongly encouraged me to join in. It looked like a lot of fun so against my better judgment I did. May I just say it has been fun. It is sponsored by
Old Red Barn Co
. It's been going for three weeks now but if you want to join in you can still catch up.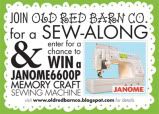 You need to choose twelve half yard cuts of fabric. Of course, I chose thirteen. Then you cut them into 2.5" strips.

Next, sew them together using 1/4" seams and cut them into 12.5" squares. On the Old Barn site it says 11.5" squares but I think it should be 12.5". If not, I can still fix them.

I put these up on my design wall for a picture. Obviously, my quilt will be very bright. I love sewing quick quilts like this one. After next week I will be ablt to longarm more of my quilts and do a lot more sewing.
I've been wanting to do a give away. I wasn't ready to do one before Christmas so I gave Jodi one of my table runners and asked her to use it in a giveaway. I figured I be ready when I had 1,000 visitors to my site. That number came and went...maybe, 2,000? Oops, that came and went, too. I love the blogging community. I think I'm just about ready now so you might want to keep checking back...just in case. Happy Summer Vacation!!!!!!!